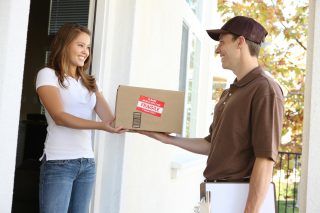 There's virtually no one in America who hasn't ordered a product online. If you've ever bought something off of Amazon, eBay, or any one of the other e-commerce giants out there, you have undoubtedly gotten an email with your package tracking information.
Perhaps you didn't pay it much attention, content to let your new item come in its own time. However, the majority of people don't have that kind of patience.
When that tracking information reads "out for delivery," it's officially in the last leg of its race to get to your door. This is called the "last mile." And last mile delivery is easily the most expensive and inefficient part of the fulfillment stage for any business.
But there are companies working hard to change this. If you're curious to learn more about last mile delivery, why it's so inefficient, and the steps that companies are making to change this, read on.
What is the Last Mile
Last mile delivery makes up the movement of your product from the distribution center to the consumer. A distribution center could be anything from a retail store, a rural home, a restaurant, or even a big warehouse.
This is the most important part of the fulfillment process because it's the part that the customer is most looking forward to.
Not all last mile delivery is the same, either. There's a big difference in business to business and business to the customer when it comes to this part of the fulfillment process. But just because they are fundamentally very different doesn't mean that they don't suffer from pretty much the same exact problems.
Why is Last Mile Delivery Inefficient?
Last mile delivery and all of the problems that come along with it have always been around. The biggest problem is in the cost. It's downright expensive to transport different, unique packages and shipments to specific, unreliable destinations on any random spot on a delivery route.
In order to consolidate costs and save themselves, and their consumer, some money. Their real challenge is to make deliveries that are dense enough to justify delivery.
The carriers who deliver also have to deal with a lot of unpredictability. Often times, customer's aren't home at the time of the drop-off or someone steals a package. There's also the incredible congestion involved in largely populated areas and customer's expectation of swift, timely, two-day delivery.
It doesn't matter if your company is directly involved with last mile delivery or not, when that package doesn't get there, it reflects poorly on your brand and you can bet that people are going to talk about it.
How is Last Mile Delivery Changing?
Businesses are trying to get this leg of the delivery race down to a science. But in recent years, the delivery world has been turned on its head by e-commerce, crowdsourcing, and same-day delivery.
Amazon Prime is a big part of this upheaval. Since 2011, the service has grown an astounding 30%.
Delivering to a residential customer is a lot more expensive and inefficient than delivering to a business. When a carrier has to deliver a single item to an area far out of the way from the other delivery spots, and the resident isn't even home, it drives up delivery costs.
But still, customers want faster and cheaper (see also: free) delivery service.
Here's how the industry is changing to make that happen.
1. Faster Fulfillment
Because companies often don't have any say in how fast or slow the last mile is completed, they put an emphasis on the physical fulfillment process.
There's a lot of pressure on the fulfillment side of things to get orders filled and turned around so fast that there isn't even technology that can keep up with it.
What used to be able to take an hour to get out the door now has to be done in a matter of minutes and that causes a big issue when it comes to planning.
2. Gig Economy and Crowdsourcing Apps
The delivery industry is a perfect example of how the gig economy is on the rise. The development of crowdsourcing apps is starting to change the game a bit.
UberRUSH, Postmates, Deliv, and even Amazon Flex provide courier services through independent drivers. They post jobs on their apps and alert the drivers. This may not be the most efficient method of delivery, at least when compared to a set truck route, but it's speeding up the process and anyone with a car or even a bike can earn a little extra cash.
These services are only available in specific parts of the world, but they're growing.
3. Legacy Carriers are Evolving
Carriers like USPS are changing with the times. Mail delivery is on the decline but e-commerce package delivery is at an all-time high.
It doesn't cost much for the USPS to add a package to a delivery because they were already going to be delivering there anyway. It's much more expensive for UPS and FedEx to make that delivery because it's a stop that is entirely independent of the rest of their route.
4. Insourced Delivery
A lot of companies are starting to use their own vehicles for the last mile delivery. Take Amazon, for example. They didn't have clients in the transport business before, but now they are dealing with a co-op with competitors in the regional area. They do this so they can use each other's transportation assets to complete this final mile.
Getting the Last Mile Delivery Right
Fast, efficient, and inexpensive last mile delivery is on the rise. It's the most important part of the fulfillment process and unfortunately also the least efficient. As technology develops, we'll probably see drone delivery and self-driving cars delivering cargo to customers across the world.
If you're looking for more information about shipping and delivery, visit us today.
---